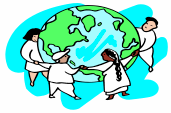 Narragansett School
P.I.E. (Partners in Education)
---
Partners In Education (PIE) is a group of interested parents, building leaders, and Ms. Remick, Principal, who work for the benefit of the school. New people and old friends are encouraged to attend the monthly meetings. This year, the group will meet on the second Monday of each month (with a few exceptions)*.
Each year in the spring, the group reflects on the work accomplished during the year, then reviews and develops goals for the upcoming year. For 2015-2016, the goals are:
To provide a bridge between home and school.
To improve the appearance of the school.
To bring more enrichment and cultural diversity to the Narragansett community.
To provide support to Narragansett families in need.
To encourage parental participation in PIE and PIE activities.
To promote awareness of wellness and safety to the Narragansett community.

PIE conducts one fundraiser at the beginning of the year, and then, based on the income, determines activities that support the goals. Following are some of the activities or projects that have been supported by PIE:
Visiting artists and authors,
Bingo Night,
Winter Swap and Shop,
Summer tutoring scholarships for students.
Please join us as we enrich school experiences for your children! For more information, call or email Cynthai Remick at 222-1250 or
cynthia.remick@gorhamschools.org
.
Meetings for 2015-2016: 6-7:30, Mondays, Room 13
September 14th
*October 5th
November 9th
December 14th
January 11h
February 8th
March 14th
April 11th
May 9th
June 13th
* this is the 1st Monday of the month
Events for 2015-2016:
August 31st K Orientation, (apples) 9-10:00
1st - 5th Open House (apples), 5:30-6:30
September 10th Back-to-school Family Picnic, 5:30-7
November TBD Geo/Multicultural Night, 6:00-7:30
January TBD Family Potluck and Bingo Night, 6-7:30
March TBD Ice Cream Social and…, 6-7:30
June TBD 5th Grade Breakfast Buffet