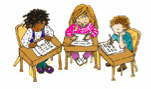 K-5 Spelling Curriculum
---
Spelling Homework Looks Different!
Many of you may have noticed that your child's spelling homework looks different this year! As we move toward full alignment with the Common Core State Standards, we are adjusting curriculum and instruction as needed.
We have modified our spelling instruction to include a phonetic spelling pattern and high frequency words each week. The first 500 Fry High Frequency Words will be covered by the end of grade five. Knowing these words builds fluency in reading and writing, allowing for deeper understanding and increased stamina.
The goal of spelling homework is to provide multiple opportunities to practice spelling patterns and high frequency words in meaningful ways. One of the most effective and efficient ways to learn spelling words is to write each word multiple times while saying the sounds and focusing on the specific spelling pattern used. Are you concerned that the spelling words are too easy? Don't be! "The more often a student works with words that share a spelling pattern, the more likely the student is to accurately spell new words that also have the pattern" (Treiman & Kessler, 2006).
Spelling homework and weekly tests are given in grades 1-3. Grades four and five focus on word study within the classroom. All grades are responsible for a portion of high frequency words.
Word meaning and vocabulary development are no longer part of the spelling homework. In the classroom, vocabulary is taught and reinforced through mini lessons with a connection to content. At home, there is a great opportunity to teach vocabulary through reading to or with your child.
Thank you for your support at home!
Kim Fadrigon
K-5 Literacy Coordinator
222-1045