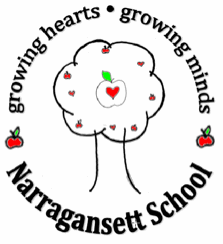 Narragansett School
284 Main Street
Gorham, Maine 04038
Polly Brann, M.S. Ed, CAS Telephone (207) 222-1250
Principal Fax (207) 839-5018
Safety and Security Upgrades and Changes in Procedures
School Opening 2013
---
August 27, 2013
Dear Narragansett Families,
We have updated safety and security systems and made changes in procedures at Narragansett this year…
Safety and Security Upgrades:
We have received a new alarm system, a new intercom system, and new clocks which are interfaced with our security system. We will have remote lock down capacity.
A new gate on the back driveway/playground area replaces the one that was removed when the portables were sold.
A new entry door will be monitored by Mrs. Hawkes.

Later this fall…
A camera will be mounted at the school entrance.
Replacing door handles and locks on all classrooms and offices will be completed.
The broken lamppost out front and the other 32 year-old outside streetlights will be replaced.

Change in Drop Off Procedure:
Parents can continue to drop students at the West end parking lot in the mornings. However, students will no longer be entering school through the West Door. This insures that people will be using one entrance to come in to the school. All other outside doors will remain locked.
Children will need to walk on the sidewalk to the front door from the parking lot. We will have a staff member on duty outside at the West end of the sidewalk and another at the front door to monitor students.
Parents wishing to walk their children in to school will continue to follow this procedure (just as they did last year) saying goodbye in the lobby.
(During good weather and fitness fun, students in 3-5 who are dropped off in family vehicles will go directly to the playground from the parking lot. K-2 students will use the sidewalk and come in the front door, walk thru the East wing and go outside thru the East door.)

Volunteers
Volunteers who come in contact with children will need to have a background check. Heidi McGoldrick, the district Volunteer Coordinator, will hold an Orientation at Narragansett on September 10th, at 9:00. She will ask people to fill out paperwork, which will be sent to the State Police. Even if you have volunteered in prior years, we will require a background check. Once a volunteer is cleared, s/he may begin. At the door, Mrs. Hawkes will be checking a master list to make sure the volunteer is on it, and then let him/her in. Volunteers, as well as visitors and staff, will continue to wear badges.
We sincerely appreciate the support and commitment by the School Committee, the Town Council, and Facilities Director Norm Justice and staff in making these safety and security upgrades possible over a two-year period. We thank you in advance for adhering to our new procedures. Please let me know if you have any questions.
Sincerely,
Mrs. Brann