Narragansett School
P.I.E. (Partners in Education)
Newsletter
---

CHECK OUT OUR NEW FACEBOOK PAGE!
Narragansett PIE is now on Facebook! Be sure to visit Narragansett Partners in Education and click
"like" for the latest information on upcoming PIE events!
WINTER SWAP AND SHOP
The annual Winter Swap and Shop will take place at Narragansett School on Saturday, November 13
th
from 9:00 - 1:00. This free event is open to ALL Narragansett, White Rock and Village School families. Mark your calendar and come "shop"for free kid's winter gear! For more information, please contact Amanda Landry at
alandry6@maine.rr.com
.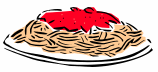 SPAGHETTI SUPPER
On November 4th, 545 students and family members gathered at the Spaghetti Supper to share a delicious meal and fun time with friends. Thank you to all the volunteers who helped set up, serve and clean up. Special thanks go out to Betsy Nygren and Rhonda Sawyer for all their hard work to make this evening a wonderful success!

ANNUAL FALL FUNDRAISER
Our fall fundraiser was a success, raising approximately $7,000! The proceeds benefit a wide variety of programs at the school, including visiting music groups, field trips, Field Day, summer tutoring, the summer library program and new playground toys, to name a few. Thank you to all who placed an order, to the volunteers who organized and distributed the orders, and a big thank you to Kim Phinney for overseeing this year's fundraiser!

NEXT MEETING
The next PIE meeting will be held on December 7th from 6-7:30 pm in the staff room. Please feel free to join us for any or all of the meetings. Even if you can only attend one meeting this year, we welcome your participation!!

BOX TOPS
The Box Tops for Education program is another way for us to earn money for our school. We have just sent in our fall submission which amounted to approximately $400! Please keep collecting your Box Tops at home as we will submit another batch in the spring. Box Tops can be found on a number of products like cereal boxes, Huggies diapers, Kleenex tissues, Chex Mix and many more! The collection bin is in front of the office.
2010-2011 PIE MEETING DATES
PIE meets on the first Tuesday of each month:
December 7th
January 4th
February 1st
March 1st
April 5th
May 3rd