Principal's Panorama
Dear Narragansett Families,
We have finally turned the corner from our warm, golden fall to a colder, browner, chillier November. That's just what happens in Maine! We are looking forward to Thanksgiving as a holiday of reflection, family traditions, and delicious food! I think we will be twenty, with kids, grands, and great-grammie. We love to host for the company and for the leftovers! One of our family traditions is to play caroms, an ancient board game that can be played with two or four people. The board and pieces we use survived my mother's family (she is one of nine kids), and has been lovingly played over time through the next two generations. This year we will set it up and challenge the grandkids! I remember my grandmother mending the pockets with onion bags. My aunt was the family champion, who continued to beat us until well into her nineties! I hope you have wonderful memories of Thanksgiving that you share with your children. We hope that the brief holiday break will allow you time to reflect on your family and friends, with good food and holiday traditions.
Sincerely,
Mrs. Brann
---

No Child Left Cold!
At school, we have dug out the extra mittens and hats. We worry when kids come unprepared for the weather. What the weather is in the morning can be different from the afternoon. We will make every attempt to get the kids outside each day, so please send them with the appropriate clothing. The West playground is on a hill which picks up the wind, so hats are important! If you need any of the major items, hat, coat, boots, mittens, snow pants, and cannot afford to get them, please let us know. We may be able to help. No Child Left Cold!
---
Save the Dates!
Nov. 20 - Last day of Kid's Klub
Nov 21 No School
Nov. 22 No School - Happy Thanksgiving
Nov 21 No School
Nov. 30th - Picture Retakes
Dec. 4th - PIE Meeting 6 - 7:30 p.m.
Dec. 10th Progress Reports Go Home
Dec. 12th - Early Dismissal
---

Narragansett PIE
Narragansett PIE met on November 6th and reflected on our work so far.
The Meadow Farms fundraiser yielded $4893.91 for the school. Our sincere appreciation to all of our families for their support. We'll need most of that for the field trips that are scheduled for each grade level.
Marci Delaney reported that with the spring and fall total of Box Tops, we will receive a check for $470. Our goal is for $1000 to buy science materials for the lab. The next deadline is in March. Thanks for your help!

We are on the way to having a school garden! Between Sara Nelson and Mrs. Kenny, 275ish bulbs were purchased and planted, one for each student and many staff. We can't wait to see them! Sharon Blakeslee, a parent and Master Gardener, will help us plan this winter for a spring veggie garden.

We spent the rest of the meeting prepping needed materials under the direction of Mrs. Bentley, for the Geo/Multicultural Night, which was held on November 15th. A great time was had by all! Thank you to volunteers and staff who helped make the event run smoothly.

On December 4th, from 6-7:30, the PIE meeting will focus on the Family Potluck and Bingo Night that we will have on January 17th. Mrs. Rimkunas has an art project, "Shells for the Shore", to share. If you'd like to help out, come to the meetingówe are always looking for more people who can give some time to our school.

---
Geography and Multicultural Night
By Luke W and Jamie K
Thursday, November 15 was Geography and Multicultural Night at Narragansett School. There were a lot of fun things to do like board games, matching games, map puzzles and maps to color. Mr. Fortier taught games from around the world in the gym. One game was from Chili. The kids really enjoyed playing this game.
You could make your own scrapbook page. You cut out maps and symbols and pasted them onto oak tag. We both made scrapbook pages. We also used laptop computers to play games and learn about other states, countries and continents.
Mrs. Flanders, our ESOL teacher, shared items from different countries. Some of our students at Narragansett School come from other countries. They shared some of their belongings with us.
Mrs. Knott, our gifted and talented teacher, shared information about a ship called the Mini-Maine. Some of her students made the sailboat and launched it in the middle of the ocean. They are tracking it using GPS.
We had passports to help us know where we had been. We stamped them when we completed an activity. Please look at the pictures in the Narragansett School entryway!
---

Art Makers in the News
Bodhi W, Grade 5
Fifth grader Bodhi Wilkins' "Pheasant" picture was selected to be included in an Art exhibition at the State House Complex in Augusta.
Bodhi drew the pheasant from observation of a taxidermy mount, and, using a variety of Art materials, added a native habitat for a background. This December, Bodhi and his family will be invited to an opening reception at the Blaine House. Bodhi is in Mrs. Susan Adolf's classroom, and Mrs. Paula Balcom is his Art teacher.
Art teachers from all public, private and parochial schools in Maine were invited to submit one piece of artwork that represents artistic excellence from a K-12 student. Congratulations, Bodhi!
---
Anything is Possible
Peyton M, Grade 5
Fifth grader Peyton Morton was a finalist in the Anything is Possible contest sponsored by Gorham Savings Bank. Students from local schools were invited to create posters showing their hopes, dreams, and aspirations for the future. The winner receives $1,000 for his or her class to use for field trips, supplies, or any educational needs to help dreams grow. The winner will be announced November 30th.
---
Picture Retake Day
For those students who were absent or would like their pictures retaken, Hockmeyer Studios will be here on November 30th.
---

Donations for Red Cross
We are still collecting money for those who suffered losses from Hurricane Sandy. Recovering from such a disaster will take quite a while -your generosity will certainly help.
---

Kid's Klubs
The fall session of Kid's Klubs is ending on Tuesday, November 20th. It was a great success this fall and we look forward to a new session beginning in the new year - more details to follow!
As always, if you have an idea for a Klub, or would like to lead a Klub, we'd love to hear from you.
---

Operation Tribute
Operation Tribute is an organization that acknowledges the sacrifices endured by the children of all military families living in New England. The program seeks to provide a holiday gift to each child of Maine's military families that wants to participate. Narragansett students in grades 3-5 will be busy writing letters to these children, providing a personal note of support from one child to another of the same age.
---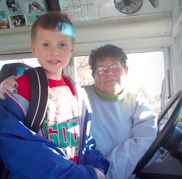 Being Safe on the Bus
By Brandon S and Mrs. Brann
When you get on the bus, you should say, "Good morning" to your bus driver. You should sit in your seat because if you don't sit in the seat, it's not safe. Keep your hands and feet to yourself. Put both straps of your backpack on and use the handrail when you are going up the bus steps. If someone needs help getting on or off the bus, you could help them.
When you are riding the bus, here are some things you can do:
Start your homework (if you don't mess around with the pencil);
Read a book;
Just look out the window; maybe you will see a deer at the edge of the woods or any kind of animal;
Talk quietly with the person next to you; or
Think about something you can do at home or at a friend's house.

If the driver has to worry about kids on the bus, the bus might get in an accident and people would get hurt. You should listen to the bus driver because the person who's driving the bus is the most important person and has the responsibility to get you home safely. Follow the Code of Conduct.
---

From the Nurse
Carrie Chasse, R.N.
As we head into the winter months, here are a few reminders for keeping students healthy!
To help stop the spread of germs:
Cover your mouth and nose with a tissue when you cough or sneeze.
Put your used tissue in the waste basket.
If you don't have a tissue, cough or sneeze into your upper sleeve or elbow, not your hands.
Wash your hands often with soap and warm water for 20 seconds.
If soap and water are not available, use an alcohol-based hand rub.

If your child has a fever:
Must be fever free for 24 hours without the use of Tylenol or Motrin before returning to school

If you child is vomiting or has diarrhea:
Must be symptom free for 24 hours before returning to school.


Please Notify the Office When…
your child is sick
your child will be tardy
your child is taking a different bus
your child will be picked up
We need your child's first and last name, teacher's name, and bus number (if applicable).
Send a note or call 222-1250 - and thanks!
---