Principal's Panorama
"Too much of a good thing can be wonderful!" -
Mae West
This is Volunteer Appreciation Week. Our sincere appreciation for all the time you have spent volunteering for Narragansett School! We applaud your willingness to consistently help us out. Whether you are working with an individual student, a small group of students, or sharing something with the whole class, you are enriching the studentsĂ­ knowledge and experience. We admire your ability to choose where to spend your time and are grateful that you have chosen us!
Sincerely,
Mrs. Brann
---

A huge Thank You is going out to the families of the students at Narragansett for your special effort to collect all the electronics hanging around your house for our April Electronics Drive.
---
Reminder of Student Dress Code
Please make sure your child is properly dressed for school. If weather permits, all students go outside for recess. Students are asked not to wear hats inside the building during the school day or wear clothing that would be distracting to others in their work environment.
Examples of inappropriate clothing are as follows:
Clothing with reference to tobacco, drugs or alcohol.
Clothing with suggestive language or graphics
See-through shirts or blouses
Shirts or dresses with spaghetti straps or deep arm holes
Clothing that exposes the student's waist or midriff
Open toe "flip flop" types of sandals, or platform high-heeled shoes (these can be very dangerous while at recess)
Shorts or skirts whose hems come well above the student's knee.

---
From the Nurse
Just a note to remind you that we do not keep student medications (over-the-counter and prescription) at school over the summer. Please plan on coming to your Narragansett no later than June 17th at end of school day (12:00 noon) to collect your medications. Students will not be permitted to carry any medication home. Medication that is not picked up will be disposed of after students are dismissed on June 17th.
Should your child require medication next year, a new medication permission form is required.
Thank you,
Carrie Chasse RN
---
Field Trip to Our State Capitol
The 4th graders enjoyed their field trip to Augusta on Friday, May 10th. Thank you to all chaperones! While there, students met with the State Representative from Gorham, Andrew McLean, and had pictures taken with him. Rep. McLean will be coming to Narragansett School on Monday, June 3rd to meet with our classes to describe the process of how new laws are made. We look forward to his visit.
---
Musical News!

Mother Goose Incorporated
Impresses at Great Falls
By Maggie R.
On Thursday, May 2nd and Friday, May 3rd, students from all Gorham elementary schools participated in the musical Mother Goose Incorporated. Mrs. Mosey was the director. The musical was at Great Falls Elementary. Being in the chorus was an excellent experience. Rehearsals began in February and continued every Wednesday afternoon for the chorus and every Wednesday, Thursday, and Friday for the cast. It was a lot of hard work, but it paid off with a very nice show.
If you want to be in the Elementary School Musical next spring, a good way to start is by being in the Elementary School Chorus for 3rd, 4th, and 5th-graders in the fall.
---
ACES Day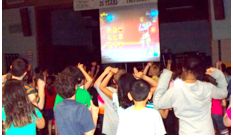 On May 1st, Narragansett students participated in an ACES (All Children Exercising Simultaneously) event. Students joined kids from all 50 states and over 50 countries in a global fitness break! The goal of ACES DAY is to show the world the importance of developing an active lifestyle starting at an early age and its impact on health throughout the lifespan.
---
Last fall, every student planted a spring bulb… and now Narragansett is looking prettier than ever!
---
Upcoming Activities at Narragansett School
| | |
| --- | --- |
| Monday, May 20 | NWEA Testing |
| Tuesday, May 21 | NWEA Testing |
| Wednesday, May 22 | NWEA Testing |
| Tuesday, May 28 | Gorham History Tour, Grade 3 |
| Wednesday, May 29 | Portland Seadogs game |
| Thursday, May 30 | Chorus Concert |
| Monday, June 3 | Field Day, Grade 1, at USM Field House |
| Tuesday, June 4 | Field Day, Grade 2, at USM Field House |
| | 5:30 Beginning and 2nd Year Band Concert |
| Wednesday, June 5 | Field Day, Grade 3, at USM Field House |
| Thursday, June 6 | Field Day, Grade 4, at USM Field House |
| Friday, June 7 | Field Day, Grade 5, at USM Field House |
| | Dare Picnic (5th grade) |
| Monday, June 10 | Dare Graduation (5th grade) |
| Tuesday, June 11 | Field Day, Kindergarten, at Narragansett School |
| Wednesday, June 12 | (rain date, Field Day, Kindergarten, at Narragansett School) |
| Friday, June 14 | Step Up Day |
| Monday, June 17 | Last day of school |
| | 12:00-noon Dismissal |