Principal's Panorama
Dear Narragansett Families,
I have been thinking a lot lately about responsibility and accountability. I'm sure you have your share at home, at work, or in both places.
Two weeks ago, we witnessed a wonderful representation of student creativity and teacher effort at the Art Show. Both kids and teachers had to make every attempt to produce quality work to share with an audience. Sincere gratitude to Mrs. Rimkunas and Mrs. Balcom for their extra work and to the kids for their fabulous projects!
This is the time of year for teachers and students to present work and learning to parents. In classrooms, students have been busy finishing projects, setting goals for the last trimester, reflecting on work, and rehearsing for conferences. Teachers are encouraging and supporting kids in that endeavor, and all the while, continuing daily lessons.
Administrators present school budgets to the School Committee in March. We are accountable to the Superintendent, the Committee, and to the public to justify our thinking and projections around school finances. On Saturday, March 23rd, administrators and department heads spent the day doing just that.
These events--the art show, parent-student-teacher conferences, and budget presentations-- hold each of us responsible and accountable for the job we are supposed to do. It is a focused effort to be transparent and efficient. We hope you enjoyed the kids' art pieces. I trust you will be satisfied your child's conference and appreciate the amount of work that has been invested. You may have an opportunity to watch GoCat TV and see the administrators speaking about their portion of the budget. For all of these, we hope you can appreciate our efforts to be responsible and accountable to you.
Respectfully,
Mrs. Brann
"In dreams begin responsibilities."
W. B. Yeats
---
Save the Dates!
3/25 - Last day of Kid's Klubs
3/28 - Early Release, Conferences
3/29 - No School, Conferences
4/8 - Incoming K Screening
4/9 - Incoming K Screening
4/9 - PIE Meeting, 6-7:30. Staff Room
4/9 - All Band Concert, GHS, 6:30 p.m.
4/8-11 - Food Drive
4/11 - Early Release
4/11 - Spirit Day (sports team)
4/12 - No School, In Service Day
4/15-19 - Spring Vacation
---
Incoming Kindergarten Screening will be held on Monday, April 8th and Tuesday April 9th for those students who will be attending Narragansett School in the fall. Appointments must be made in advance - call 222-1250.

Immunization records and an original birth certificate are required at the screening.



---
Force and Motion
By Emma C. and Veronica S.
Last week in the Science Lab, Mrs. Simmon's and Mrs. Adolf's classes conducted a science project on Force and Motion. We rolled cars down ramps, measured distance and measured how long it took for the cars to go down the ramp. Then, we added mass by putting pennies on the cars and did the trials again.
We learned that the more mass the car had, the faster it went down the ramp. Next, it was time to change the surfaces on the ramp. First we used felt, which made the car go slower with more friction. Then we used gravel, which made the car go slower just like the felt did. Finally, we rolled the car down the wax paper. The wax paper made the car go faster because it had less friction.
---
Before and After
By Jordan B. and Noah J.
These two photos show fifth grade boys who shaved their heads to raise money for kid's cancer research. The foundation they are supporting is called St. Baldrick's.
There are ten brave boys from Gorham participating this year, 6 of whom go to Narragansett School. Each boy agreed to shave his head and to ask friends and family for donations in return. The boys raised over $10,400 and feel very proud of their efforts. More than 40,000 people are trying to help kids with cancer. Altogether, St. Baldrick's has raised 103+ million dollars for cancer research!
---

Firefighting
By Aiden, T.J. and Skyla
We are fourth graders in Mr. Small's classroom. We have been reading articles about fires and firefighting with Mrs. Bentley. After reading some articles we had a few questions and decided to write a letter to Chief Lefebvre, Gorham's fire chief. Here are some of Chief Lefebvre's answers.
What is it like to be a firefighter?
To me firefighting is one of the most exciting and interesting jobs in the world. Every day that you come to work you don't know what types of challenges you will be facing that day. You might be going on a medical call treating someone having a heart attack, or bleeding etc. You might deliver a baby, or be cutting someone out of a wrecked car that is trapped from a car crash. You could be handling a hazardous materials call, or fighting a fire. Think of almost anything that people do that can cause them to get injured or need help, they call us. When not responding to calls, crews maintain equipment and trucks, do training, and are responsible for keeping the station clean.
How many firefighters does Gorham have?
Gorham has 125 firefighters, 12 that are full ñtime and the rest are on call firefighters.
Does Gorham have a fire investigator?
No, investigating fires are part of my job, and my Deputy Chiefs. If we need additional help we call in the state Fire Marshal's Office to help us.
---
Jump Rope For Heart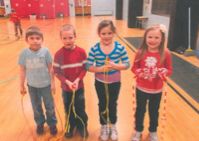 Narragansett, Village and Great Falls schools participated in the Jump Rope For Heart fundraiser for the American Heart Association.
Half the money raised will go to the American Heart Association. The other half will be used by all three elementary schools to purchase games and activities for Field Days.
---

Our names are Danielle and Sadie. We're planning a fundraiser to raise money for Make A Wish of Maine. We need your help to make kids dreams come true. We think it's important that we all help out as much as we can. Bring in your pennies (and nickels, dimes, quarters, and dollars, too!)
Make A Wish is an organization that helps make dreams come true for kids who are really sick. For example, if a kid with an illness dreamt of going to Disney World someday, Make A Wish would make that happen! So let's get on board and help out a great organization here in Maine!
---
Kitchen Tours

Food Service staff have been giving tours of the kitchen and giving info about nutritional guidelines to Narragansett students throughout the spring. Thank you, Diana Blanchard and Debbie Bellantoni!




Volunteers Read to Narragansett

Students from Gorham Middle School came to read to students for Read Across America day. They also had a fundraiser and donated books to our school. Thank you, GMS!



---
Pennies for the Planet

Mrs. Burns' class collected coins to help wild places and wild life. A donation will be made the Audubon Society. Good job, everyone!




Irish Step Dancing

The Stillson School of Irish Dance gave us a wonderful performance on March 15th. Thank you, Stillson dancers!






---
Art Show & Ice Cream Social
We had 300+ people attend the Narragansett Art Show and Ice Cream Social on March 14th!