Principal's Panorama
Dear Narragansett Families,
The Narragansett community is a very compassionate bunch! We have asked for holiday assistance and it is coming in daily in the form of wrapped gifts, volunteers, and donations! We have several families who have indicated a need for assistance and the School Elves are working diligently to meet those needs by matching the donations, filling the Ă«tree' with wanted items for kids, shopping, wrapping, and organizing. Your kindness is in abundance! Our sincere thanks for your help at this very busy time of year.
"There is no exercise better for the heart than reaching down and lifting people up."
British writer, comedian, and broadcaster
The Narragansett staff is looking forward to a well-deserved holiday break to spend time with family and friends. Be sure you take time to spend with your children doing the simple thingsĂłplaying a board or card game together, reading together, cooking together, playing outside together. Those are the things that they will cherish. We wish all of you safe travels and peaceful gatherings as you enjoy the holidays! We look forward to ringing in 2013 and welcoming the kids on January 2nd.
Sincerely,
Mrs. Brann
---
Save the Dates!
Dec. 19 - 5th Grade Band Concert, 5:30, GMS
Dec.20 - Musical Assembly
Dec. 24 - Holiday Break begins
Jan. 2 - Return to School
Jan. 8 - PIE Meeting, 6:00 p.m., Staff Room
Jan. 10 - Chorus Concert, 6:30, Great Falls
Jan. 21 - No school Martin Luther King Day
---

Narragansett PIE
The Narragansett PIE met on December 6th. Mrs. Rimkunas, our Friday art teacher, enlisted our help with a project for those impacted by Hurricane Sandy. "Shells for the Shore" has been very successful at Great Falls School, where Mrs. R. works four days weekly. Our "Friday" art kids are decorating seashells that will be made into pendants and magnets. Parents may buy their own child's art. The price is a donation (if you can) to the cause. Volunteers are asked to help putting the finishing touches on the jewelry on Wednesday, December 19th at 3:30.
Other topics for the evening consisted of debriefing the Geo/Multicultural Night, discussing a friendly Box Tops competition, and planning for the upcoming Family Winter Picnic and Bingo Night on January 17th. Mark your calendars for a fun evening! Grab sandwiches or something quick and join us in the gym at 5:30 for the Picnic, followed by an exciting family Bingo game. More information will be coming in the new year.
Join us at PIE, the first Tuesday of the month, 6-7:30, to assist with school-wide projects. We love to have new faces!
---
Making Sense of Numbers
By: Math + Science Connection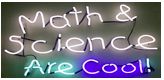 Cheryl Fotter, Math Coordinator
Of all the math skills your child will need, the first is to understand what numbers mean. Here are two ways for your child to make sense of numbers.
Count and Say:
Help your youngster understand that we use numbers to represent objects. Have her count something everyday. She may count the number of lights in your house or the number of pictures on the wall. Then, ask, "How many lights are there?" She'll see that the last number she says is the number of items in the group.
Find the partner:
Make a game out of missing numbers. Tell your youngster you will hold up fingers of one hand, and her job is to tell you how many fingers are missing (hold up 2 fingers, and she says 3) Take turns until she's comfortable with numbers to five, then play with both hands (numbers to 10). For older children, pick a higher target (20). Say a number (8), and the other person answers with the number needed to equal the target (12, because 12 + 8= 20)
---
Monthly Math + Science Connection Newsletter
Do you find this newsletter useful? Interesting? Informative? Fun? Should we continue to subscribe to it? Please take a moment to either call Sylvia Hawkes at 222-1295 or e-mail her at
sylviah@gorhamschools.org
.
We appreciate your input!
---
Sledding
By Griffin L.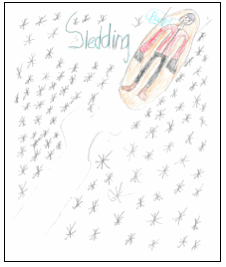 I was flying down the hill like a speeding bullet! The snow that got in my jacket felt good and cold. My stomach felt like it was going to burst! I could feel a big cold draft hitting my face. I looked down the hill, but all I could see was white. It felt like the hill was another ten miles. Then, it came. The end of the hill finally came. My sled started to slow down, and then the sled stopped. The ride was over.
---
Narragansett Recycles Techno Trash!

CFK (Cartridges for Kids®) is a recycling program that pays schools CA$H for:
Cell Phones
Digital Cameras
Video Games and Consoles
Empty laser and inkjet cartridges
DVDs (case included)
iPads, Tablets and Readers
All funds raised will support K-5 library and computer programs.
---
Testing the Strength of an Egg
By Luke W.
Friday, November 16, 2012, Mrs. Adolf's class had an egg experiment to find out how many books an egg could hold. An egg has to be strong to hold a 100 pound bird like an ostrich. We used butcher paper, plastic wrap, clay and little square tiles to make like a tripod to hold the egg up and put the clay as a ring to hold the egg up. We also put plastic wrap on the books. We gently placed books on top of each other until the eggs broke. One group of kids got 5 textbooks on the egg before it broke. That was with the egg standing up. They got three textbooks books on the egg before it broke with the egg on its side. So, an egg is strongest standing up and that solved the question.
---
Cleaning Up Oil Spills
By Luke W.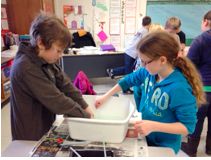 The students in Mrs. Adolf's 5th grade class did an experiment in science to figure out what would be the best way to clean up an oil spill. They used straws and strings to make booms and they used cotton balls to make sponges to absorb all of the oil. They used buckets of water instead of a lake or a river and they used olive oil and green food coloring to make the oil spill. The booms that the students made worked well. The cotton balls absorbed a lot of oil. They used paper-baking cups cut in half to try to scoop up the oil but that did not work. They cut paper squares to use like a skimmer but that did not work either. Mrs. Adolf's class found out that booms and sponges would clean up the oil quicker. The students enjoyed doing the experiment. Some of the students might even like to become scientists some day!
---
Mrs. D-H's students make
"Shells for the New Jersey Shore"
to help assist those impacted by Hurricane Sandy
---

Hi, I'm Molly and I am in the fifth grade. I'm raising money for a cause called PAWS. PAWS stands for Performing Animal Welfare society. They take care of animals who have been hurt, are old, or were treated badly. You can help these animals by donating money in the jug in the lobby. The money PAWS gets will be used for food, blankets, tools, and medicine.
I hope you can help!

PAWS investigates reports of abused performing and exotic animals, documents cruelty and assists regulatory agencies to alleviate the suffering of captive wildlife.
---